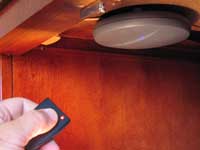 Picture shows MinibarMate Internet connection installed inside the top of the armoir, and the Waiter Button in use.

Quick start...
To set up the service, each minibar you want included in the your reports is connected to the Internet using our ingenious little "MinibarMate". Your Technical Department can easily install the MinibarMates. They come pre-configured and simply need to be plugged in. Or we can do it for you, quickly and effectively without disturbing your guests or routines.

Press once...
After your minibars are connected, each attendant is given a small personal "Waiter Button" (like a miniature TV remote with just one button). All that has to be done is to point it at the MinibarMate and press the button when the minibar is serviced. It's that simple!